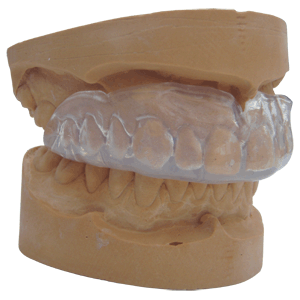 At Zammit Orthodontics we can provide you with fully customizable mouth guards in the shortest turn around possible thanks to our state-of-the-art, in-house orthodontics lab. There's no need to wait, call us today to book an appointment – we accept both referrals and walk in patients.
What Are Mouthguards?
Mouthguards are tough rubbery appliances you can wear in your mouth to prevent damage to your teeth or jaw during contact sports. They provide a cushioned layer around your teeth and redistribute force evenly across their surface to help you take blows without losing your teeth or damaging your gums or lips.  Mouthguards are important in reducing the number of concussions in sports as well as the protection of teeth.
Our mouth guards are sometimes used by patients who grind their teeth at night causing damaging effects to the teeth.
For more information on our customized mouth guards call Zammit Orthodontics today – (905) 682 8375